The two most popular graphics in my collection were created in 2007 because of an awful driver in the Adelaide hills.
Whilst driving home through the Adelaide hills last night (c. 2012-ish) with our 12-day-old baby boy, Little Jai, sleeping in the backseat, we were being tail-gated by an awful driver.
There was fog around us, so the whole back of our car was lit-up – which was making it difficult for us.
So I yelled this through the back-window – "BACK OFF MY A$$, BABY ON BOARD!" – and suddenly realised that would look great on a sticker or tshirt.
Consequently everyday I get notification that a few stickers are purchased in each size!
Follow the link on each to buy one for your car: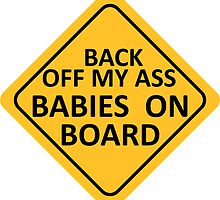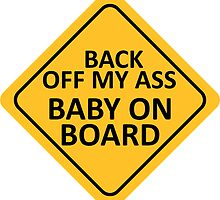 Here's hoping you continue liking them for many years to come. Did you know I also have a photography collection?